Campia's COVID 19 Safety Plan 2022
We encourage you to read through our updated COVID-19 Safety Plan (Updated March 14, 2022). We have been working diligently to ensure that we are following all Public Health guidelines and providing the safest possible environment for our staff, members and families. Campia COVID-19 Safety Plan (March 14, 2022).pdf
IMPORTANT NOTE: Please read the Campia's COVID-19 Safety Plan and Campia's Recreational Policy Document prior to registering for camp.
Please ensure that your child's online profile is up-to-date with current medical conditions, allergies and both primary and emergency contact numbers. Should we need to reach you, these are the numbers we will use.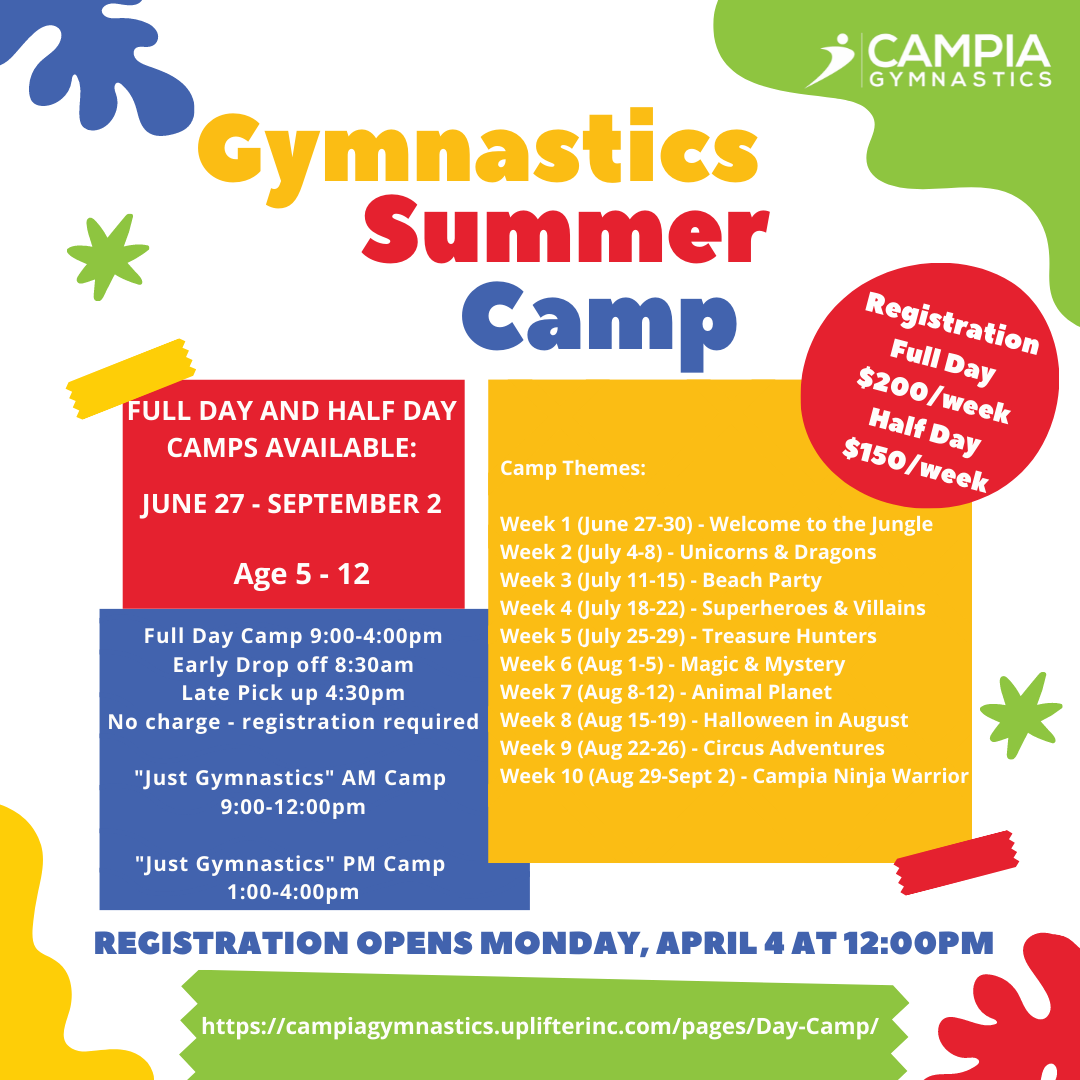 Summer Camp - 10 Weeks of Camp - June 27 - September 2, 2022
Full Day Camp - 9:00am-4:00pm, cost is $200/week
(Early Drop off at 8:30am and/or
Late Pick up at 4:30pm -
Available at no charge, registration is required)
During full day camp, there will be activities, crafts, games, theme visitors (when possible), park outings and lots of gymnastics. Supervised snack and lunch break.
Just Gymnastics Morning Camp - 9:00am-12:00pm, cost is $150/week
Just Gymnastics Afternoon Camp - 1:00pm-4:00pm, cost is $150/week
Members will be charged a 2022-2023 Gymnastics Newfoundland &
Labrador Camp Membership Fee of $20/per athlete at check-out. This membership fee is valid until June 30, 2023.